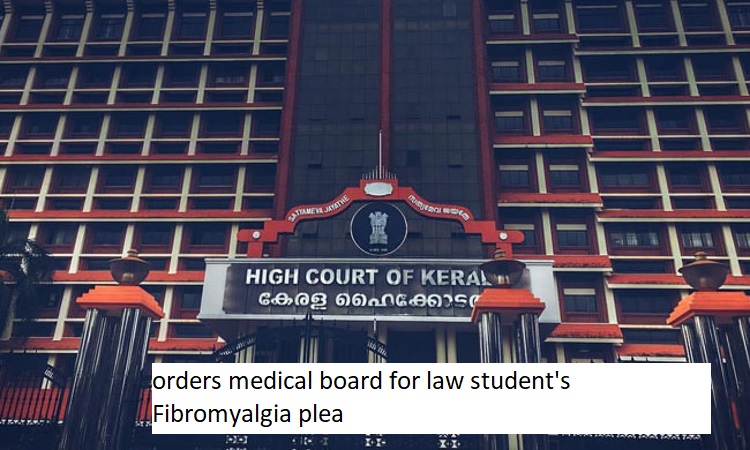 The Kerala High Court has issued a directive to the District Medical Officer, Thrissur ('DMO'), and the Superintendent of Thrissur General Hospital to establish a Medical Board. This board will assess the request of a 22-year-old law student who is seeking a certificate to facilitate the assistance of a scribe for her upcoming exams. The order was delivered by Justice T.R. Ravi, who specified that the required certificates must be issued to the student no later than November 18, 2023.
The law student, presently in the 10th semester of the 5-year integrated LL.B. Course at Government Law College, Thrissur, has disclosed that she is grappling with chronic Fibromyalgia. This medical condition is characterized by widespread musculoskeletal pain. She emphasized that the ailment causes intense pain and weakness, adversely affecting her daily activities. Furthermore, she highlighted that her writing speed significantly decreases during assignments due to the pain and weakness associated with Fibromyalgia.
Given the University's notification of the commencement of the 7th semester on November 20, 2023, the student submitted representations to the Principal of the College and the Controller of Examinations. In these representations, she sought the assistance of a scribe for writing the upcoming exam. However, the authorities informed her that she needed to obtain a certificate from the Medical Board constituted at the District Hospital, Thrissur, to engage a scribe.
In response to this requirement, the petitioner approached the DMO and the Superintendent of Thrissur General Hospital. Regrettably, she alleged inaction on their part, prompting her to approach the court for directions. Her plea sought the issuance of instructions to the respondents to promptly consider her request and establish a medical board for the issuance of the necessary certificates, considering the imminent commencement of the examination.
The petition has been presented through the legal representation of Advocates Rebin Vincent Gralan, Dinesh G. Warrier, and Vimal Vijay.
This legal action underscores the challenges faced by individuals with chronic health conditions in accessing accommodations for academic pursuits. The court's intervention in directing the constitution of a Medical Board reflects a recognition of the student's need for reasonable accommodations due to her medical condition. It emphasizes the importance of ensuring equal opportunities for individuals with disabilities, enabling them to pursue their education without undue hindrances. As the case unfolds, it will be of interest to observe how the Medical Board evaluates the student's condition and whether the necessary certificates are issued in a timely manner to facilitate her participation in the upcoming exams.
TAGS: Kerala High Court Medical Board ,Fibromyalgia Law student ,Certificate ,Scribe assistance Justice T.R. Ravi