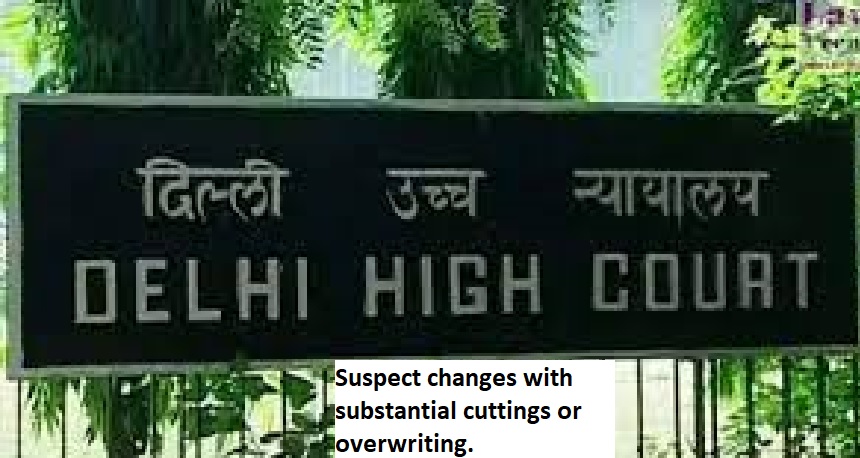 The Delhi High Court has emphasized that the scrutiny of a Will for potential suspicion arises only when significant modifications are attempted through cuttings and overwriting. Justice Rekha Palli noted that the impact of such alterations in a Will varies based on individual circumstances. The court highlighted that, irrespective of compliance with Section 71 of the Succession Act, which addresses modifications post-execution, the examination of the effect of cuttings and overwriting is crucial.
Section 71 stipulates that alterations made to a Will after its execution lack legal effect unless the text or meaning becomes illegible due to the changes. Justice Palli expressed the view that the assessment of unsigned cuttings and overwriting depends on the specific details of each case. The court can consider a Will suspicious and reject it only if substantial changes are detected through cuttings and overwriting.
Justice Palli made these observations in response to a petition filed by three individuals seeking probate for a Will executed in 2012 by Kanval Dhillon, an unmarried woman who passed away in 2015. The petitioners claimed to be the executors, and the Will was attested by Dhillon's friends. The plea revealed that the petitioners informed Dhillon's sisters about the Will, but upon its recovery, some overwriting and cuttings were discovered.
The court, in allowing the plea, determined that while Dhillon desired changes in the Will, the corrections made through cuttings and overwriting did not significantly impact the bequeathals. The court acknowledged that Dhillon likely contemplated modifications over time, possibly due to changes in property ownership and adjustments to bequeathed amounts. The cuttings and overwriting, seen as minor rearrangements and musings, did not cast suspicion on the original Will, which reflected Dhillon's final wishes regarding asset distribution.
Justice Palli concluded that the nature of the alterations, including side notes, cuttings, and overwriting, did not deviate from the essence of Dhillon's intentions. Notably, she did not wish to bequeath any portion of her estate to her sisters. The court deemed the alterations as minor adjustments envisioned by Dhillon during the three years following the Will's execution, dismissing any suspicion.
Consequently, the court granted the Letters of Administration to the petitioners concerning the Will. The petitioners were required to file the necessary Administration and Surety Bond, along with the payment of stamp duty. The court's decision underscored the importance of considering the context and impact of alterations in a Will, ensuring that even with cuttings and overwriting, the testator's original intentions remain discernible and credible.
TAGS: Delhi High Court Will cuttings overwriting Section 71 Succession Act Justice Rekha Palli probate executors